2019 Conference Call for Programs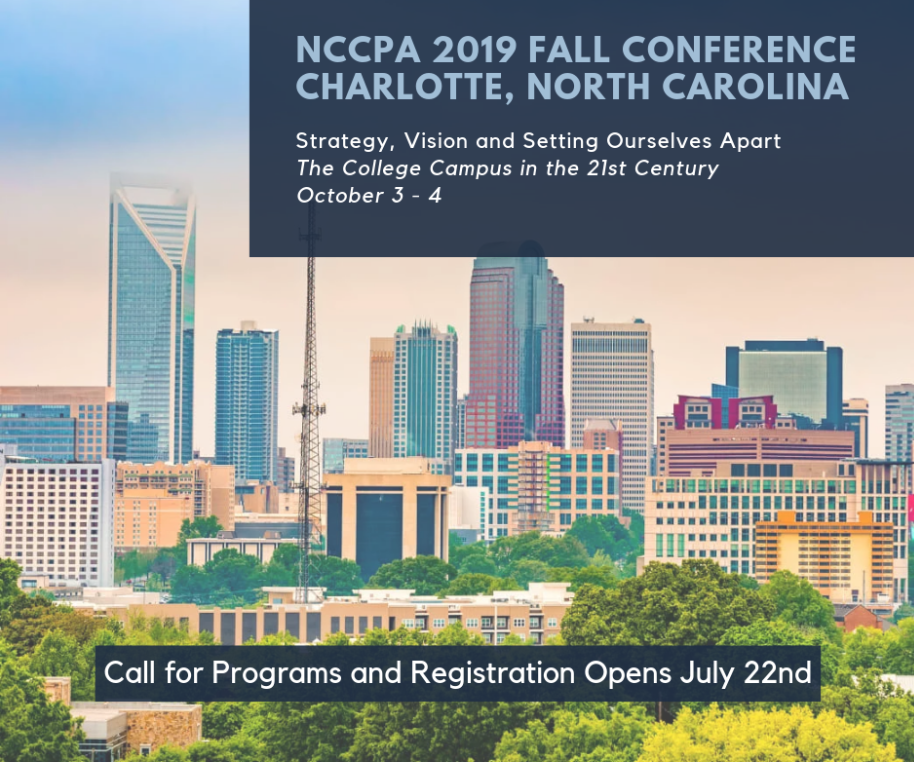 The 2019 NCCPA – North Carolina College Personnel Association's Fall Conference call for programs is now open. The fall conference is scheduled for October 3-4 at UNC Charlotte in Charlotte, NC.
We invite electronic proposal submissions for the conference. A proposal may address following questions including, but not limited to:
In what ways can equity be infused into all functions of higher education to ensure the success of all students?
How will campuses continue to address issues of campus wellness, safety, trauma and mental health in the 2st century?
What are the best and promising practices for Financial and Enrollment Management in the 21st Century? How do we advance and redefine educational opportunity and access amidst financial pressures and changing demographics?
How are we designing and assessing academic and co-curricular offerings to deliver and justify our high-impact practices?
How can student affairs practitioners and administrators collaborate with faculty to support the holistic development of our students?
How do we equip our students with the skills and practical understanding needed to be civically engaged, activists and servant leaders? How do we create space for various levels of civic engagement and activism for students, faculty and staff?
How can we continue to articulate and demonstrate the value of student leadership and involvement on our campus communities? What might this look like for men, students of color and students with social identities not often represented in traditional campus leadership roles?
What does the preparation and development of new and emerging professionals in higher education entail in the decades ahead? What are the essential skills sets and competencies essential to professional success in higher education?
Program Types (50-minute presentations):
General Program

Roundtable Discussion

Poster Presentation (Graduate students only)
Submission deadline Friday, September 6, 2019.

Important Dates:
Friday, August  30, 2019 – Deadline for all program proposals
Friday, September 6, 2019 – Program Notification
Contacts for Questions: Education Programs Chair, Dr. Ryan Miller – [email protected]