2019 NCCPA Fall Conference
October 3-4, 2019 |UNC-Charlotte| Charlotte, NC
Registration for the NCCPA Fall Conference on October 3-4, 2019 is now open!
On behalf of the North Carolina College Personnel Association (NCCPA), we are excited to be hosting our annual conference at UNC-Charlotte this October. Our theme this year is 'Strategy, Vision and Setting Ourselves Apart: The College Campus in the 21st Century'. Join us in Charlotte as we explore and tackle important issues affecting student affairs.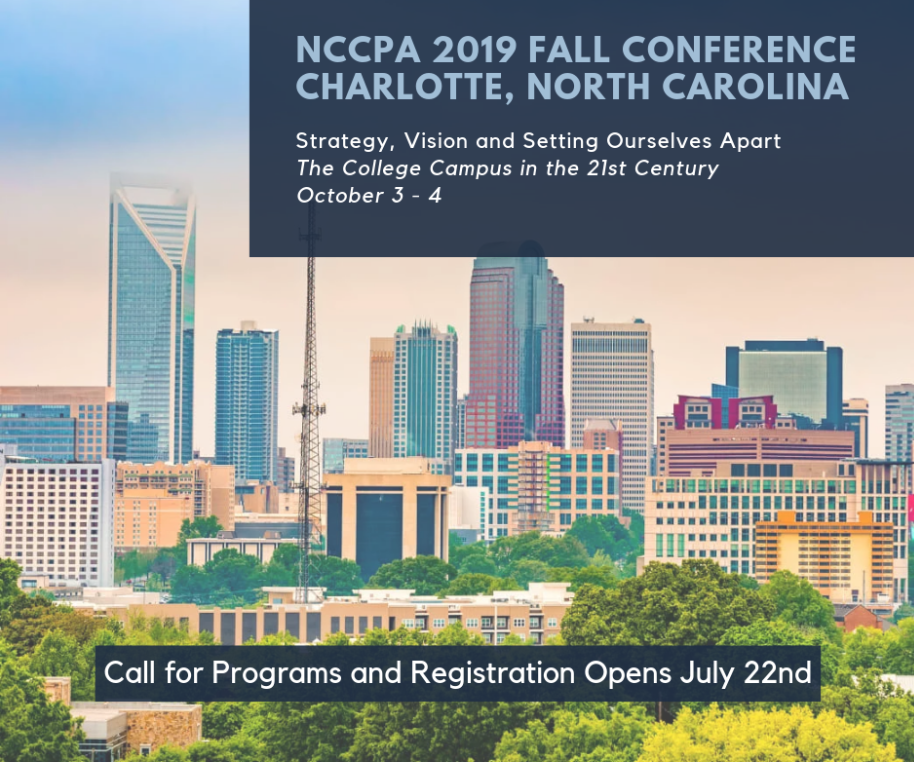 2019 NCCPA Fall Conference Schedule
DAY 1 – THURSDAY, OCT. 3
7am-3pm
Registration
9-9:55am
Welcome & Keynote – Dr. Craig Elliott, ACPA President

Student Union Movie Theater

10:05am-11:05am

Concurrent Session 1

Supporting First-Generation Off-Campus Students

Tiffany Vega (East Carolina University)

Room 261

Imposter Syndrome, White Supremacy, & Implications for Social Identities

Rachael Forester & Emily Wheeler (UNC Charlotte) 

Room 263

Addressing the Nuanced Mental Health Needs of Graduate Students

Katherine Hall-Hertel & Christine Reed Davis (UNC Charlotte)

Room 265

11:15am-12:10pm

Panel Discussion

Response and Recovery: Student Affairs Lessons Learned After a Campus Shooting

Christine Reed Davis, Karen Shaffer, & David Spano (UNC Charlotte)

12:15-1:45pm
Lunch

Vouchers provided with registration

2nd Floor – Crown Commons

1:45-2:45pm

Concurrent Session 2

Community Center Transformed into Classroom: A Teaching & Learning Pathway

Adriana Medina (UNC Charlotte) & Maria Diaz (Carolina Youth Coalition)

Room 261

To Ph.D. or Not to Ph.D.? Determining Your "Why" for Earning a Doctorate

Ryan Miller & Cathy Howell (UNC Charlotte)

Room 263

The Past is Not Behind Us: Understanding the Racist Foundations of Higher Education in America

Yancey Gulley (Western Carolina University)

Room 265

2:55-3:55pm

Concurrent Session 3

"Belongingness" & Student Success: The Importance of Graduate & Professional Student Spaces

Aura Young & Jill Huerta (UNC Charlotte)

Room 261

From Midwest Nice to Southern Hospitality: Decoding Racialized & Gendered Experiences

Der Vang (UNC Charlotte) & Chelsea Smith (NC State)

Room 263

Using ePortfolios to Encourage Integration of Academic & Co-Curricular High Impact Practices

Karen Singer-Freeman & Andrew Harver (UNC Charlotte)

Room 265

4pm
Break and Campus Tour
7pm
Social Event
DAY 2 – FRIDAY, OCT. 4
8-10am
Registration
10-11am

Concurrent Session 4

NCCPA Business Meeting

Brandon Bell (Elon)

Room 261 

Analyzing Qualitative Data: Professional Development Strategy for 21st Century Advisors

Stephanie Galloway, Tiffany Wilson, & Dannielle Curtis (UNC Charlotte)

Room 263

Breaking the Silence: Talking About Race on Campus

Yancey Gulley (Western Carolina University)

Room 265

11:15am-12:15pm

Concurrent Session 5

Higher Education Program Faculty Meeting

Ryan Miller (UNC Charlotte)

Room 261 

Respecting Origins & Creating Equity

Theresa Dereme (Suffolk County Community College)

Room 263

Infusing Leadership Theory into Workshop Curriculum

Alonzo Cee (Elon)

Room 265

12:30-2pm
Lunch, Awards and Closing
Registration & Pricing
Online registration for the annual conference opens July 22, 2019.
Registration Type          Regular (7/22-9/27)                 Late/On-Site (9/28-10/04)
Graduate Student                               $90                                                          $120
Professional                                         $175                                                          $205
Registration Policies
All individuals, including program presenters, attending the conference must pay a registration fee.
Methods of Payment
Payment can be made by check, money order, or credit card (MasterCard, Visa, American Express, or Discover).  Checks or money orders should be made payable to:
NCCPA
c/o Torry Reynolds
5320 Sunrise Terrace
Winston Salem, NC 
A service/processing fee of $55.00 per registration will be assessed for returned checks.  Changes in payment method after initial payment is processed are not permitted.
Cancellation and Refund Policies
To cancel a registration and request a refund, log into your registration using the information at the bottom of the confirmation email and request cancellation.  If assistance is needed, please email [email protected]. All refund requests must be made by the attendee or credit card holder.  Telephone requests will not be honored.
Refund request timelines are as follows:
Refund requests received on or before September 27, 2019 at 5:00pm EST will receive a full refund.
Cancellations received after September 27, 2019 at 5:00pm EST will not be eligible for a refund.

Refunds for no shows will not be granted.
For additional questions or concerns regarding registration, please contact Brandon Bell, at [email protected].
Hotel Information
Drury Inn & Suites Charlotte University Place
415 West W.T. Harris Blvd.
Charlotte, NC, 28262
Conference Rate (through 9/30/2019 at midnight): $93 + tax (double)
Reservation information HERE
For questions contact Conference Chair, Brandon Bell at [email protected].
---