2018 NCCPA Fall Conference
October 27-28, 2018 |Bennett College| Greensboro, NC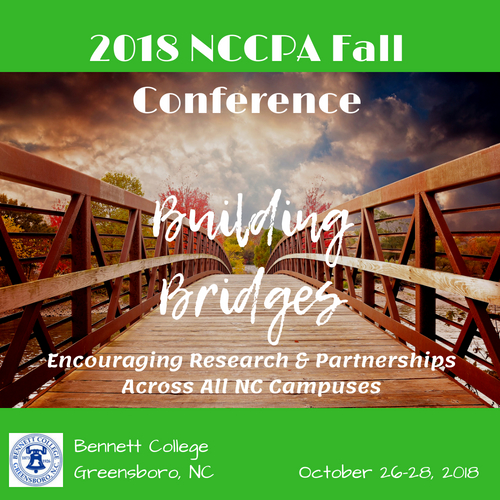 Registration for the NCCPA Fall Conference on October 26-28, 2018 is now open!
On behalf of the North Carolina College Personnel Association (NCCPA), we are excited to be hosting our annual conference at Bennett College this October. Our theme this year is Building Bridges: Encouraging Research and Partnerships Across All NC Campuses. Join us in Greensboro as we explore and tackle important issues affecting student affairs.
2018 NCCPA Fall Conference Registration & Pricing
Online registration for the annual conference opens July 15, 2018.
Registration Type          Regular (7/15-10/19)                 Late/On-Site (10/20-10/28)
Graduate Student                               $100                                                          $125
Professional                                         $150                                                          $180
Includes the following meals:  2 continental breakfasts,  2 lunches and 1 dinner.
Registration Policies
All individuals, including program presenters, attending the conference must pay a registration fee.
Methods of Payment
Payment can be made by check, money order, or credit card (MasterCard, Visa, American Express, or Discover).  Checks or money orders should be made payable to:
NCCPA
c/o Torry Reynolds
5320 Sunrise Terrace
Winston Salem, NC 
A service/processing fee of $55.00 per registration will be assessed for returned checks.  Changes in payment method after initial payment is processed are not permitted.
Cancellation and Refund Policies
To cancel a registration and request a refund, log into your registration using the information at the bottom of the confirmation email and request cancellation.  If assistance is needed, please email erica.wallace@unc.edu. All refund requests must be made by the attendee or credit card holder.  Telephone requests will not be honored.
Refund request timelines are as follows:
Refund requests received by October 12, 2018 will receive a full refund.

Cancellations received after October 13, 2018 will not be eligible for a refund.

Refunds for no shows will not be granted.
For additional questions or concerns regarding registration, please contact Erica Wallace, Marketing & Registration Chair, at erica.wallace@unc.edu.
Hotel Information
Holiday Inn Express & Suites East
3111 Cedar Park Rd.
Greensboro, NC  27405
Conference Rate (through 10/7/2018 at midnight): $89 + tax (double)
Reservation information HERE
For questions contact Conference Chair, Pamela Pinnix-Adkins at plpinnix@gtcc.edu.
---